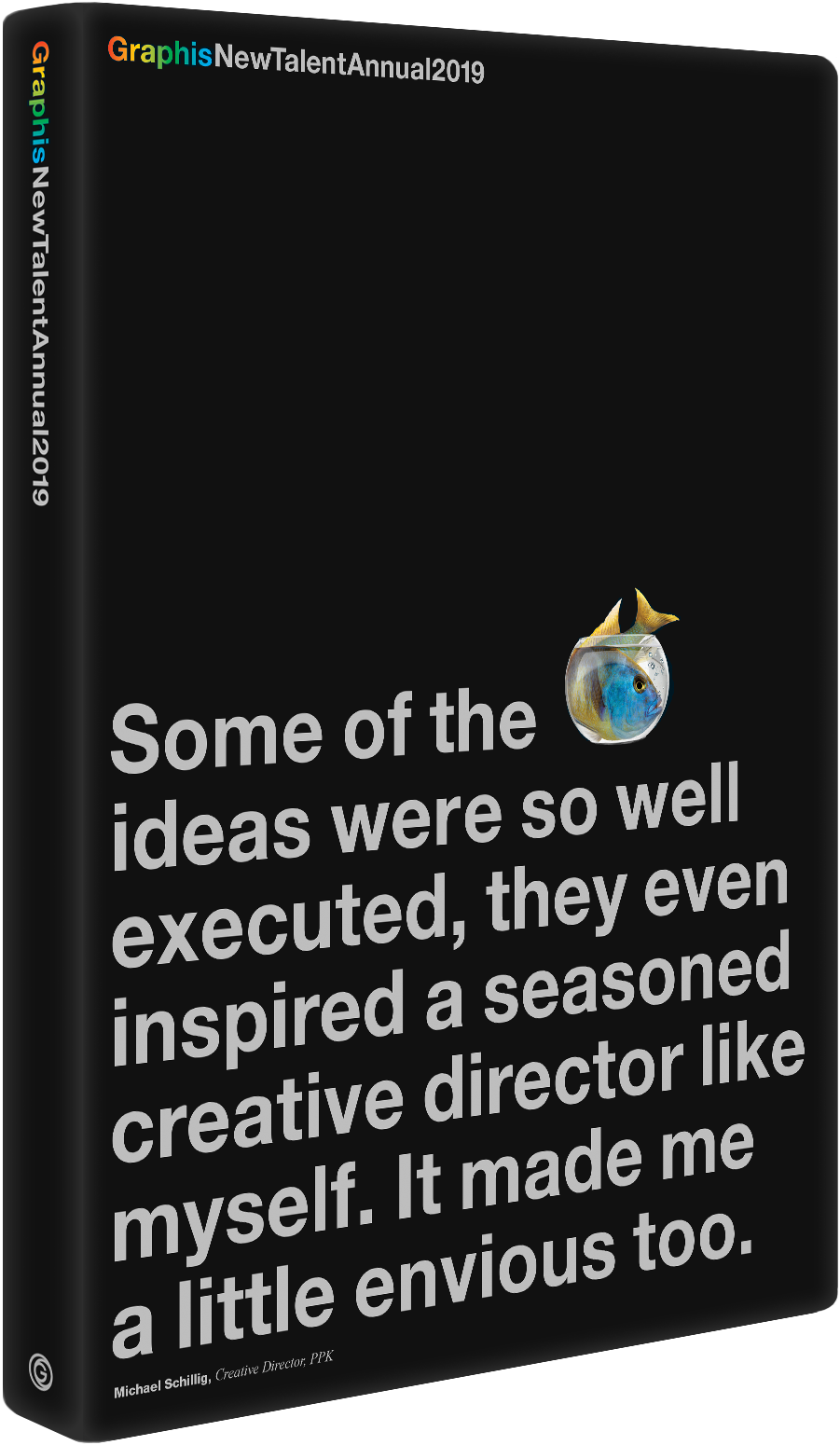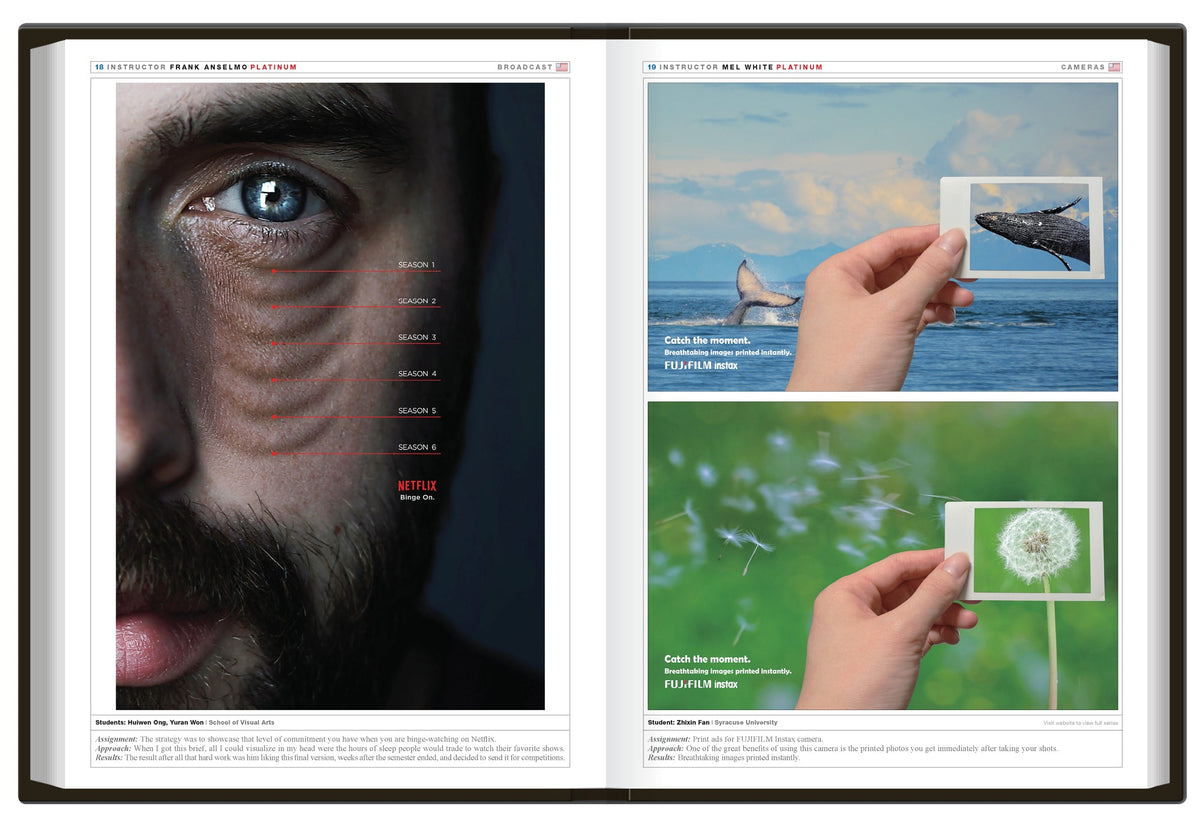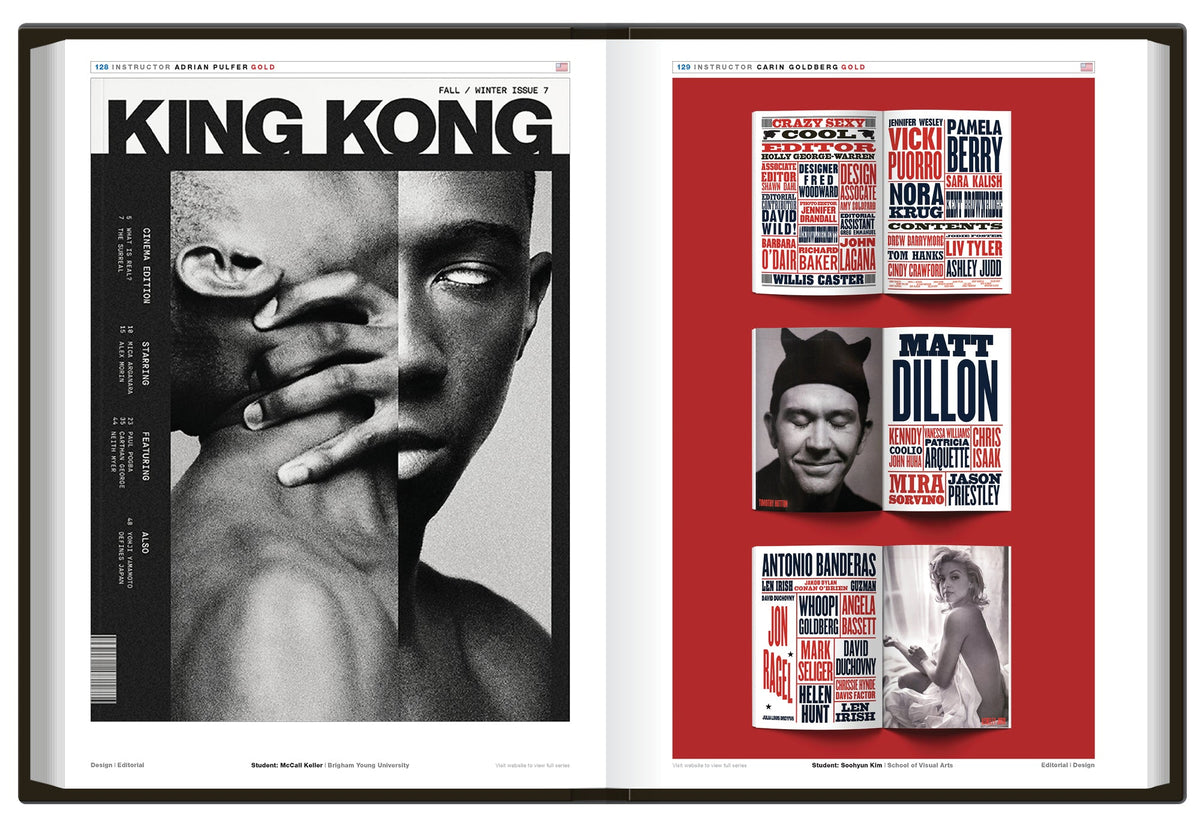 ---
Hardcover, 8.5" x 11.75", 3.73lb, 256 pages, ISBN 9781931241779
---
Winning Entrants: This year's Annual presents award-winning work from over 800 students whose Instructors have inspired and challenged them to achieve brilliance. A few of the Platinum-winning Instructors are as follows: Advertising: Frank Anselmo, Josh Ege, Larry Gordon, Eileen Hedy Schultz, and Kevin O'Neill
Design: Brad Bartlett, Devan Carter, Eszter Clark, Carin Goldberg, and Adrian Pulfer
Judges: Entries were judged by an award-winning panel of industry leaders including Athena Azevedo (IF Studio), Kevin Shaw (Stranger & Stranger), Jennifer Morla (Morla Design), and John Fairley (Curious Productions), among several others listed in the book.
Contents: This book contains winning entries in Advertising, Design, Photography, and Film/Video. Each discipline is further organized by subject matter, in the same format as our Professional Annuals. Also included are a Q&A with Ron & Pippa Seichrist of Miami Ad School, a school directory, and information about upcoming Graphis titles.
Credits & Commentary: Platinum and Gold Award-winning students describe the assignments they were given and their approaches to projects, which give insight into their creative processes.
Selling Points: This hardcover book presents full-page images of Platinum & Gold Award-winning work from talented Instructors and students. Silver-winning work is also displayed and Honorable Mentions are listed. All winners from Platinum through Honorable Mention are presented equally on our website.
Audience: This book is a tool for teachers to raise their students' standards and is also a gauge to show how their school ­stands in the international community. Many of these student winners will go on to have illustrious careers in their professions. We frequently award up to 500 Honorable Mentions and welcome and encourage new talent to submit. Students, teachers and professionals all benefit from this Annual.