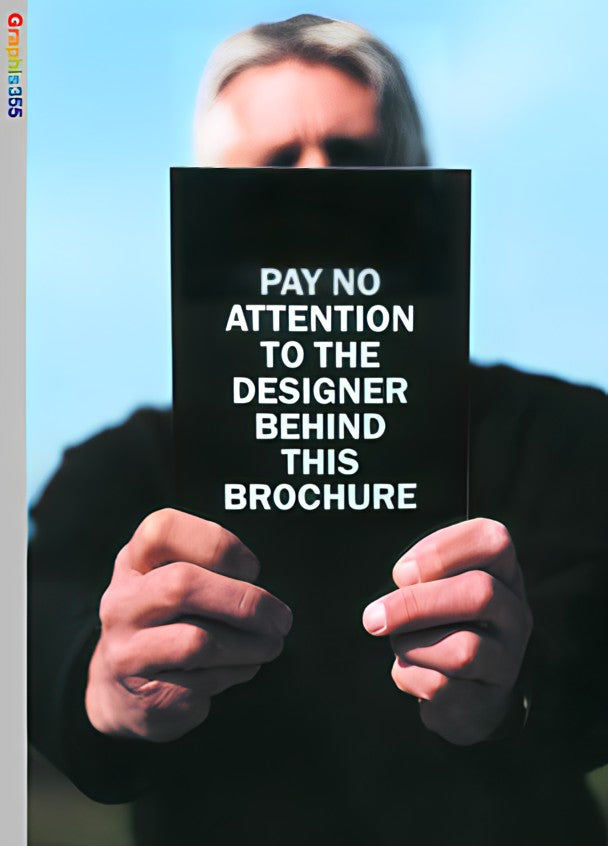 Issue 355 - Digital Version
January-April 2005
Cover Image: Photograph of John Bielenberg
by Victor John Penner
Issue 355 is the last issue of Graphis magazine to be published. Articles include the following: Q&A Willi Kunz; David Hillman: A Design Perennial, by Patrick Baglee; Architecture: Rick Joy; Design: Jack Summerford: Bailey Lauerman: Producing Brilliant Advertising in Nebraska; Photography: Republic of Dreams; Design Strategy: John Bielenberg; John Jay: W+K's Man in Tokyo; and Illustration: Maria Rendon.
CONTENTS:
7 Contributors

11 Q&A Willi Kunz

12 David Hillman: A Design Perennial by Patrick Baglee

34 Architecture: Rick Joy
Former professional drummer and carpenter transformed to architect who orchestrated multiple environmentally sensitive materials that resulted in a beautiful modernist home in the Arizona desert.

48 Design: Jack Summerford
Summerford is an elegant idea directed classical designer also famous for his helvetica T-shirt. Check out his sidebar on how to operate with no overhead (ie: no partners & no staff). Not too many designers have this kind of courage, and he is therefore free of meetings with partners and employees giving instead clients his total focus.

58 Bailey Lauerman: Producing Brilliant Advertising in Nebraska
Of course we now know that you no longer have to operate in a major city to be successful in the Ad business, Wieden & Kennedy proved that years ago. Bailey Laurerman is presently producing powerful advertising and is now putting Omaha Nebraska on the map. They are centrally and conveniently located for easy accessibility for bi-costal clients and are located in an I.M. Pei building overlooking Phillip Johnson and Gwathmey Siegel architecture.

80 Photography: Republic of Dreams
Josef Astor, Andrea Giaobbe and Tom Van Heel break the envelope with unusual and graphically arresting photographs that could be ground breaking for courageous advertising art directors and designers applying new approaches for their clients.

102 Design Strategy: John Bielenberg
Of course you have to pay attention to this designer. John provokes your interest with skillfully edited text that grabs your attention and clearly communicates the interests and needs of his clients. John shuns the spotlight, so I thought we would put him on our cover.

119 John Jay: W+K's Man in Tokyo
John is a brilliant soft spoken, multi cultured designer who gained early fame as art director of Bloomingdales, where he successfully art directed photography legends that included Horst, Hiro and James Moore. Continually courageous with both his work and life, he risked relocating from New York to Portland Oregon to join W+K. He later started and headed the new office in Tokyo, and is now back in the Portland office as a partner overseeing W+K globally.

140 Illustration: Maria Rendon
Maria successfully incorporates numerous materials in developing her 3 dimensional art. This direction originated with her when she was a child in Mexico organizing her things in boxes. In addition she was also influenced by the technical drawings of her engineer father who encouraged her with her craft. She later graduated from Art Center College of Design in Pasadena, California.