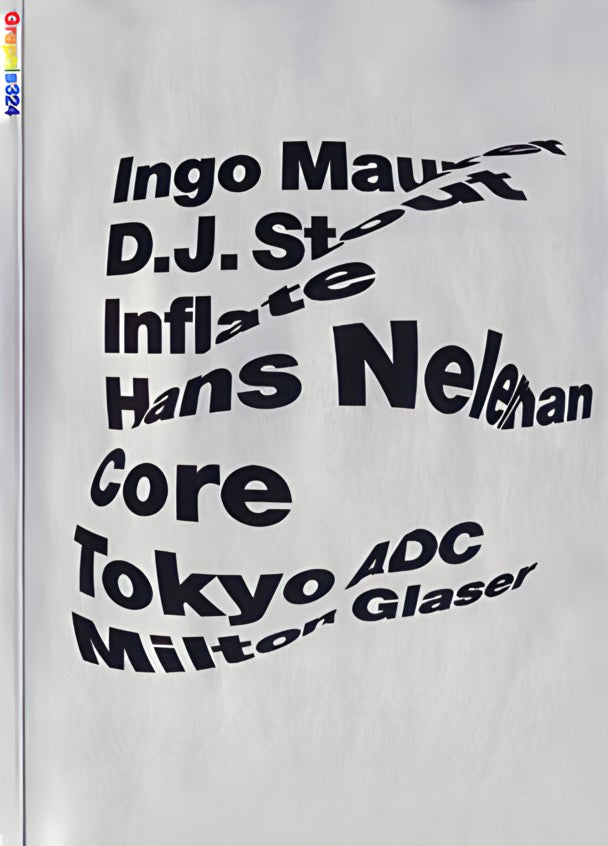 Issue 324 - Digital Version
November / December 1999
Cover Image: Featured stories.
In Graphis magazine Issue 324, you'll find the following stories: Inflate: Wit, Whimsy & the Entrepreneurial Spirit, by Jan Burney; Core's Enfant Terrible, by Warren Berger; Ingo Maurer: The Universal Language of Light, by Michael Webb; Moko: Maori Tattoo, by Martin C. Pedersen; D.J. Stout: Variations on a Rectangle, by Jack Crager; The Tokyo ADC and the Decline of Pure Design, by Maggie Kinser Saiki; Milton Glaser: Taking the Long View, by Pete Hamill; and Saul Steinberg: Walking a Fine Line, by Michael Webb.
CONTENTS

6 Editorial

8 Contributors

12 Your Action World Reviewed by Ken Coupland

12 Hiro Reviewed by Edna Goldstaub-Dainotto

14 Jazz Seen Reviewed by Lyle Rexer

14 Propaganda & Dreams Reviewed by Peter Jaskowiak

16 The Phantom Brand Phenomenon By Rick Poynor

18 Consumer Products By Yanitza Tavarez

22 Inflate: Wit, Whimsy, and the Entrepreneurial Spirit
What began as a student project, done simply to keep London's Nick Crosbie from flunking out of college, is now a booming business, featuring a range of inflatable products. By Jan Burney

30 Core's Enfant Terrible
Eric Tilford, creative director of a hot, young agency in St. Louis, has contempt for just about everyone and everything in advertising. Is he right, or is it just time for him to grow up? By Warren Berger

44 Ingo Maurer: The Universal Language of Light
Driven by his own insecurities and a deep and abiding fear of failure, the Munich-based lighting master is still driven by the same passions that catapulted him to fame more than thirty years ago. By Michael Webb

58 Moko: Maori Tattoo
Hans Neleman's dream of photographing the Maori people of New Zealand turned into a two-year odyssey fraught with racial politics, diplomacy, and deep emotion. The resulting book provides an exquisite portrait of a remarkably resilient people. By Martin C. Pedersen

66 D.J. Stout: Variations on a Rectangle
The art director of Texas Monthly is given an unusual amount of creative freedom, and he has used it to produce one of the most innovative and graphically beautiful magazines in America. By Jack Crager

82 The Tokyo ADC and the Decline of Pure Design
The future of Japanese design is uncertain, as young designers abandon traditional modes of communication and old masters question the methods of these high-tech upstarts. By Maggie Kinser Saiki

94 Milton Glaser: Taking the Long View By Pete Hamill

102 Saul Steinberg: Walking a Fine Line By Michael Webb

108 Global Report

112 Type Directors Club

113 German Translation By Heinke Jenssen

129 French Translation By Caroline Droz

146 Kai Kujasalo Graphic Design

154 Rainer Wörtmann Graphic Design