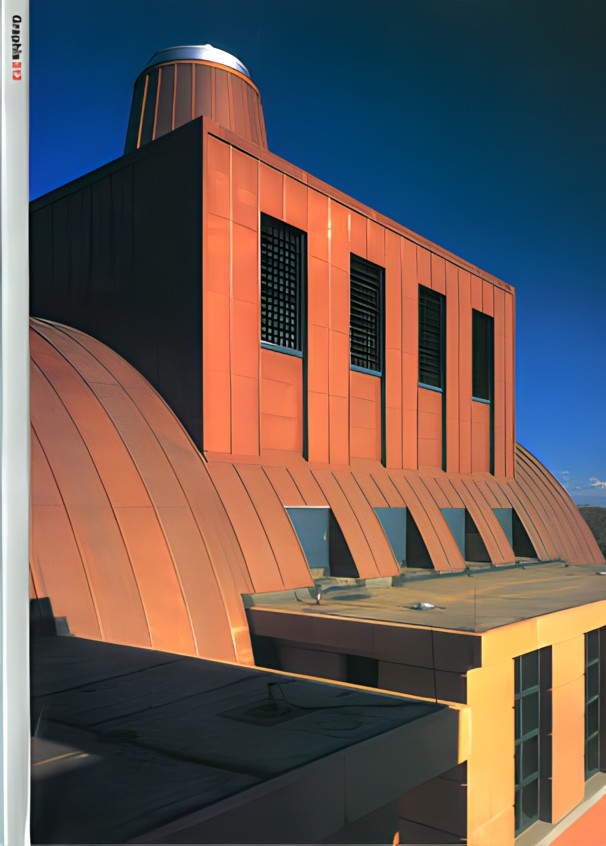 Issue 312 - Digital Version
November / December 1997
Cover Image: The Engineering Research Center, College of Engineering, University of Cincinnati, Cincinnati, Ohio. Architect: Michael Graves. Photo: Steven Brooke.
Issue 312 of Graphis magazine features the following articles: Diversity and Risk-Taking: The 1997 Chrysler Design Awards; Venice Biennale: Odd Bedfellows, written by Edna Goldstaub-Dainotto; Gone Hollywood in Aspen: International Design Conference, by Alice M. Larsson; Cooper Hewitt: A Quarter Million and Still Counting, by Mel Byars; The Image Directory: Online Access to Art, by Bret Senft; The Photomontages of Hannah Hoch, reviewed By Edna Goldstaub-Dainotto; The Autobiography of Leo Lionni, reviewed By Linda Cooper Bowen; Manual Alvarez Bravo, reviewed By Edna Goldstaub-Dainotto; Tullio Periocli: Morgana, reviewed By Hans Christian Jenssen; Electronic Culture, reviewed By Gianfranco Mantegna; Michael Heizer, reviewed By Gianfranco Mantegna; Architecture and the American Dream, reviewed By Gianfranco Mantegna; Sony Innovations: Then and Now, by Richard Lewin; Selections from <I>Graphis Product Design 2</I>, by Mel Byars; Charles S. Anderson: Designs in the Vernacular, by Kira Obolensky; Michael Graves: The Prince of Princeton, by Tracie Rozhon; Yusaku Kamemura: Maestro of the Far East, by Maggie Kinser Saiki; Zimmermann Crowe Design: The Art of Denimology, by Ken Coupland; Pushing the Envelope: The Art of the Stamp, by Bill McAllister; New Roads Lead to Rome, by Till Neuburg; Florence Knoll: "No Compromise," by Mel Byars; Type Directors Club News; ADC International Review: Art Directors Club Newsletter; and the Graphis Creative Showcase: Droog Design, Cyan, Bruce DeBoer, D C & A and Carlos Zapata.
CONTENTS

Cover The Engineering Research Center, College of Engineering, University of Cincinnati, Cincinnati, Ohio: Michael Graves. Photo: Steven Brooke

10 Global Report

Diversity and Risk-Taking: The 1997 Chrysler Design Awards

Venice Biennale: Odd Bedfellows By Edna Goldstaub-Dainotto

Gone Hollywood in Aspen: International Design Conference By Alice M. Larsson

Cooper Hewitt: A Quarter Million and Still Counting By Mel Byars

11 Contributors to this Issue

14 New Media: The Image Directory: Online Access to Art. By Bret Senft

16 Book Reviews

The Photomontages of Hannah Hoch Reviewed By Edna Goldstaub-Dainotto

The Autobiography of Leo Lionni Reviewed By Linda Cooper Bowen

Manual Alvarez Bravo Reviewed By Edna Goldstaub-Dainotto

Tullio Periocli: Morgana Reviewed By Hans Christian Jenssen

Electronic Culture Reviewed By Gianfranco Mantegna

Michael Heizer Reviewed By Gianfranco Mantegna

Architecture and the American Dream Reviewed By Gianfranco Mantegna

20 Industry Products: Sony Innovations: Then and Now. By Richard Lewin

24 Consumer Products: Selections from Graphis Product Design 2. By Mel Byars

28 Charles S. Anderson: Designs in the Vernacular
How can a bunch of prototypical Midwesterners produce such hip and funny design? A trip to the supermarket reveals their quirky and singular vision. By Kira Obolensky

38 Michael Graves: The Prince of Princeton
Now 63, the hero of postmodern classicism contemplates his success, his critics, and becoming an old fogy. By Tracie Rozhon

52 Yusaku Kamemura: Maestro of the Far East
The father of Japanese graphic design, Kamemura is remembered as one of the most influential designers of his era and the dominant figure in a field he virtually created. By Maggie Kinser Saiki

62 Zimmermann Crowe Design: The Art of Denimology
Nobody has demonstrated the power of branding like Levi's—and nobody has done more for the image than San Francisco's Zimmermann Crowe Design. By Ken Coupland

74 Pushing the Envelope: The Art of the Stamp
No longer just a canvas for dead presidents, the US postage stamp carries new designs which have rejuvenated the fortunes of the Postal Service, and irked traditional collectors. By Bill McAllister

82 New Roads Lead to Rome
Long overshadowed by Milan, a renaissance of Roman talent may soon make the city the new capital of Italian creativity. By Till Neuburg

97 Historical View Florence Knoll: "No Compromise." By Mel Byars

100 Graphis Call For Entries

102 Type Directors Club News

105 ADC International Review: Art Directors Club Newsletter

145 Graphis Creative Showcase:

146 Droog Design Industrial Design, Amsterdam, The Netherlands

148 Cyan Graphic Design, Berlin, Germany

150 Bruce DeBoer Photography, Raleigh, North Carolina

152 D C & A Graphic Design, Seoul, Korea

154 Carlos Zapata Architecture, USA