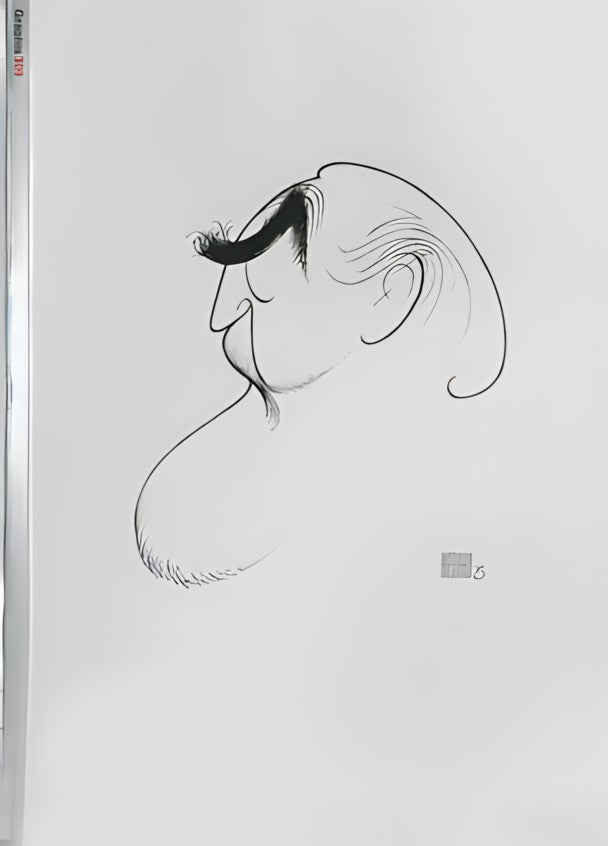 Issue 309 - Digital Version
May / June 1997
Cover Image: Self-portrait, ©Al Hirschfeld. Drawing reproduced by special arrangement with Hirschfeld's exclusive representative, The Margo Feiden Galleries, New York.
In Issue 309 of Graphis magazine, you'll find the following articles: Johnson Banks: New Generation of British Wit, by Tracy Rozhon; Al Hirschfeld: With the Luck of the Drawings, by Mel Gussow; Design & Business: Ties to Commercial Fortunes, by Chris Barnett; David Tartakover: The Imagery of Hope, by Edna Goldstaub-Dainotto; Karim Rashid: The Art of Experiential Objects, by Andrea Codrington; Tom Bonauro: Natural Selections, by Ken Coupland; and Kozue Naito and the Cloth Menagerie, by Masami Kikuchi.
CONTENTS

12 Global Report
Report from Germany: Achille Castiglioni...Alphonse Mucha: Triumph from the Jugendstil...Letters to Graphis...Henry Dreyfuss at the Cooper-Hewit...Blurring Boundaries: The IDSA Design Gallery...Bruno Gironcoli: The Unborn...Report from Austria: Wunderkammer Osterreich...summer workshops in France...SFMOMA presents "Moving Images"...Epica award winners

16 Book Reviews
Tadao Ando: The Colours of Light, reviewed by Karen S. Chambers.

A Double Life of 80 AGI Designers, reviewed by Jurgen Riehle.

Terence Conran on Design, reviewed by Jan Burney.

Love is Blind, reviewed by Edna Goldstaub-Dainotto

17 Consumer Products
Watch prototypes from the students at Art Center...sunglasses from Nike..."Spartacus" from the Apple Industrial Design Group...new digital camera from Sony

20 Industry Products
Printing on demand...software for remote proofing...hi-res digital camera backs...file exchange software...a stapler that stands...graphics tablets for the mouse-averse

22 Johnson Banks: New Generation of British Wit
Although critics may say he relies too much on his wit, a longhair from London finds success through his trademark humor and simple, red-hot designs. By Tracy Rozhon

34 Al Hirschfeld: With the Luck of the Drawings
There has been one unifying constant in the theater: Al Hirschfeld, who for more than 70 years has chronicled and elevated the theatrical experience through his art. By Mel Gussow

40 Design & Business: Ties to Commercial Fortunes
How do you further build a brand that already enjoys a sterling reputation? The partnership of Robert Talbott, Inc. and Michael Vanderbyl prove that design can be a wieldy tool. By Chris Barnett

50 David Tartakover: The Imagery of Hope
David Tartakover's sharp, caustic and thought-provoking art is a response to the reality he lives in - a volatile environment perpetually at the brink of chaos. By Edna Goldstaub-Dainotto

58 Karim Rashid: The Art of Experiential Objects
In a profession so often marked by cut-and-dried thinking and corporate compromise, industrial designer Karim Rashid uses cutting-edge aesthetics and a holistic approach. By Andrea Codrington

68 Tom Bonauro: Natural Selections
Bonauro's idiosyncratic, allusive style has struck a responsive chord outside the art world - earning him high-profile commissions including the juggernaut campaign for 501 jeans. By Ken Coupland

74 Graphis Ten Best in Advertising 97. Text compiled by Rynn Williams

76 Advico Young & Rubicam, Zurich, Switzerland

78 Borders, Perrin & Norrander, Portland, Oregon

80 Carmichael Lynch, Minneapolis, Minnesota

82 Fallon McElligott, Minneapolis, Minnesota

84 Goodby, Silverstein & Partners, San Francisco, California

86 Jung von Matt Werbeagentur, Hamburg, Germany

88 The Martin Agency, Richmond, Virginia

90 The Richards Group, Dallas, Texas

92 Sietsema Engel and Partners, Minneapolis, Minnesota

94 Weiss, Whitten, Stagliano, New York, New York

97 Commentary: Imagery in the Networked Age
Thanks to digital media, the imagery of speed has given way to the imagery of simultaneity. The result? A visual morass where we can't efficiently move through space anymore.

145 Kozue Naito and the Cloth Menagerie
Kozue Naito is one of the few female stars of the Japanese art world, a costume artist who creates works of art that also happen to serve as clothing. By Masami Kikuchi