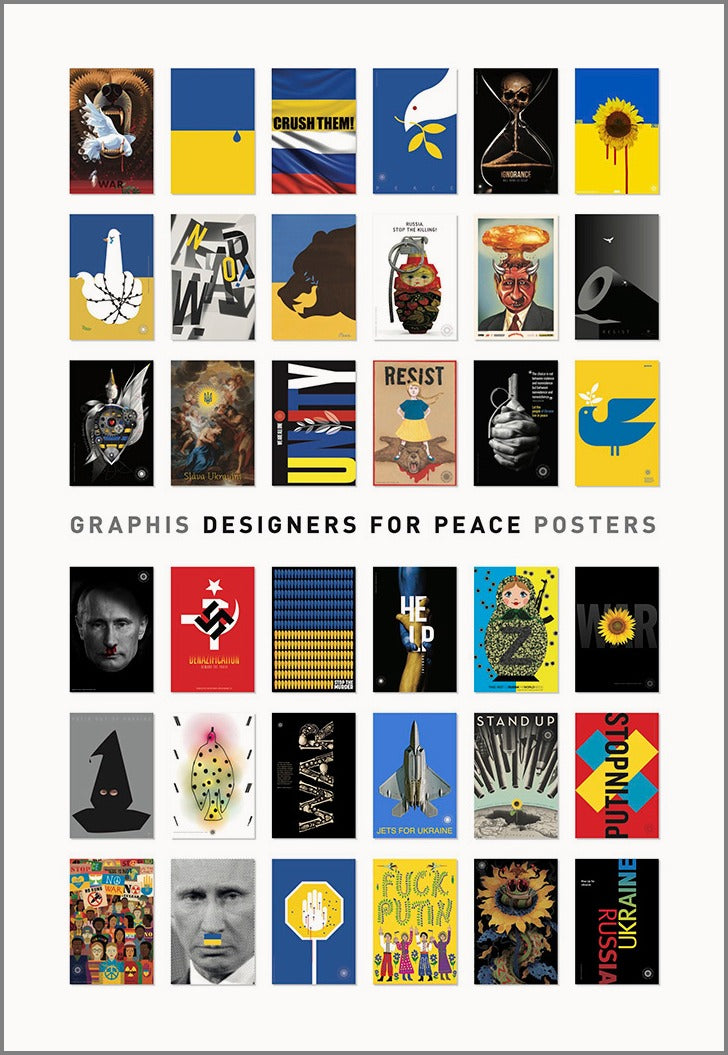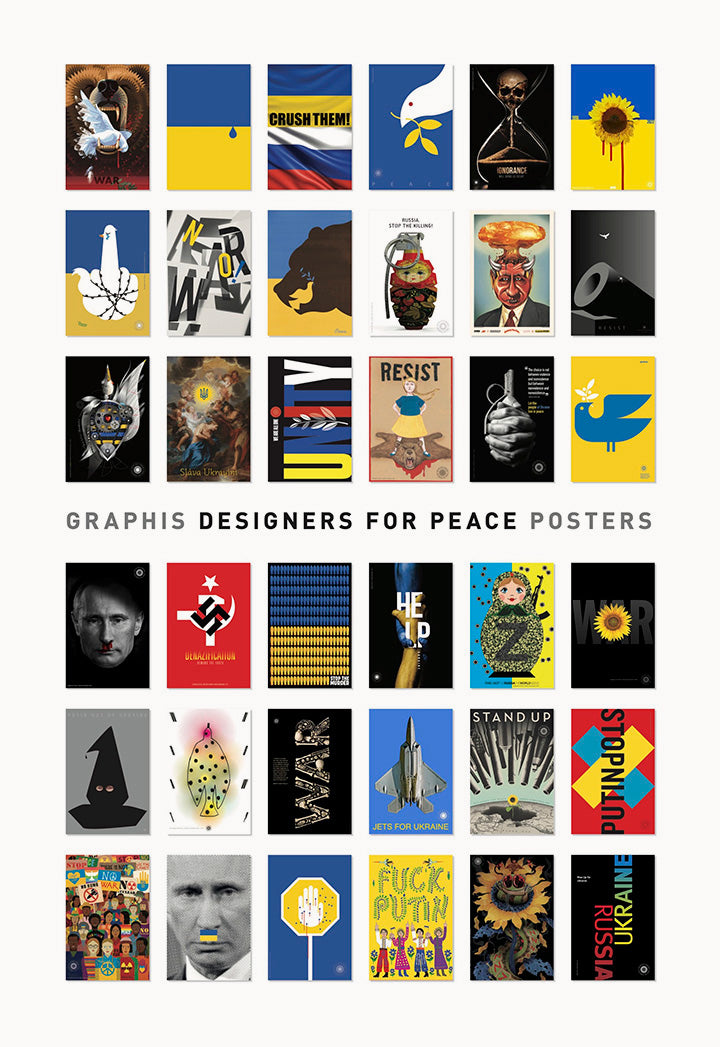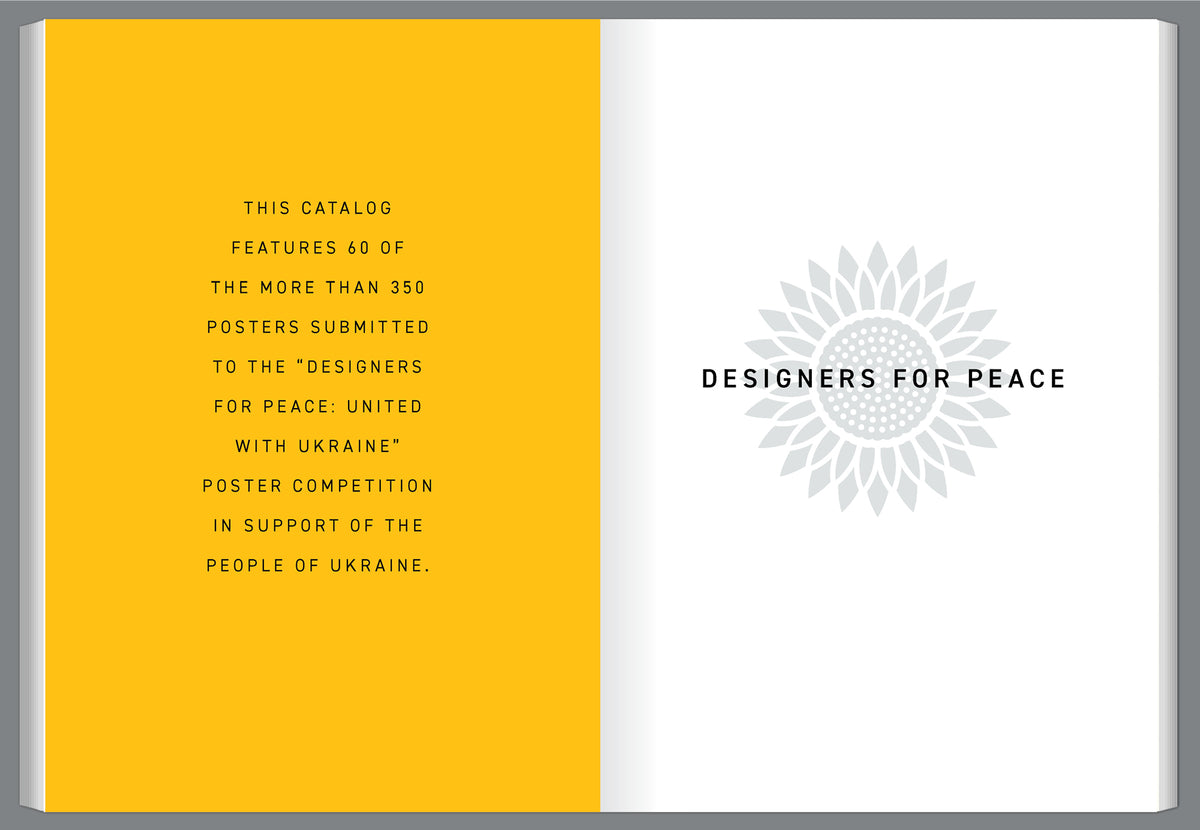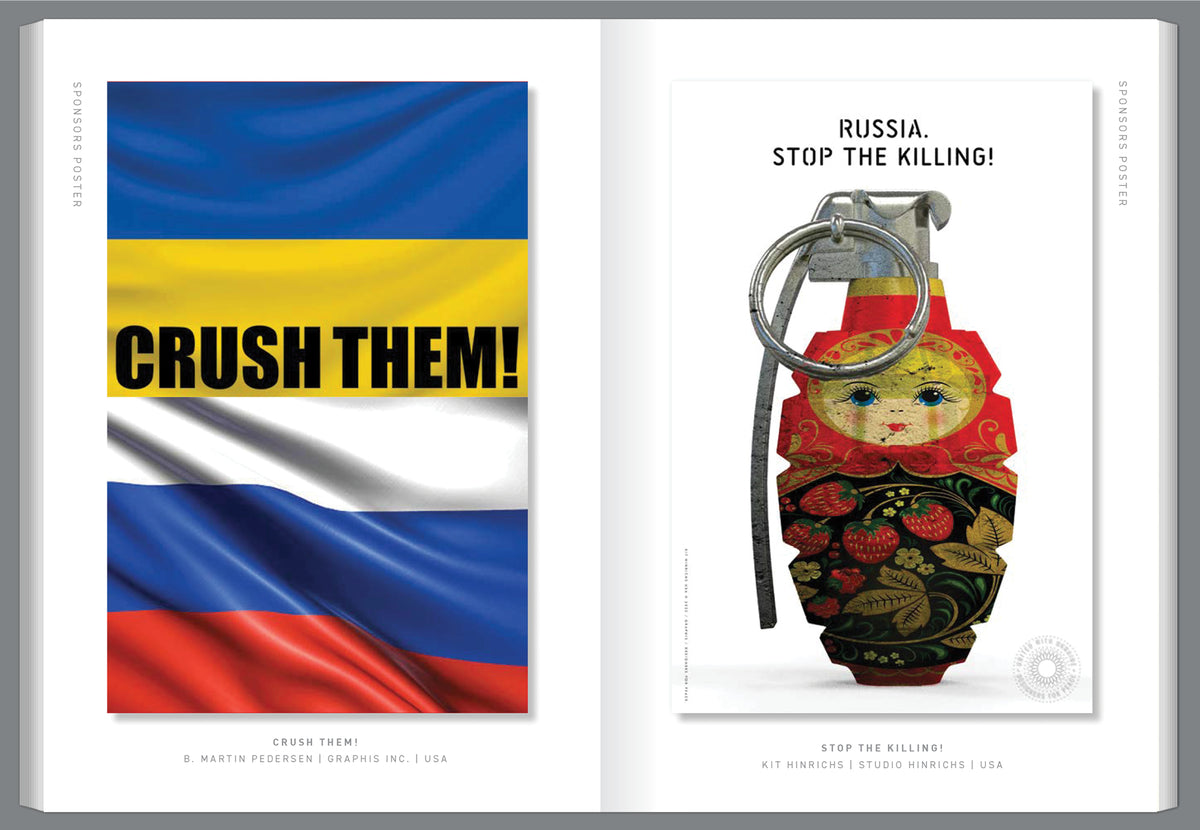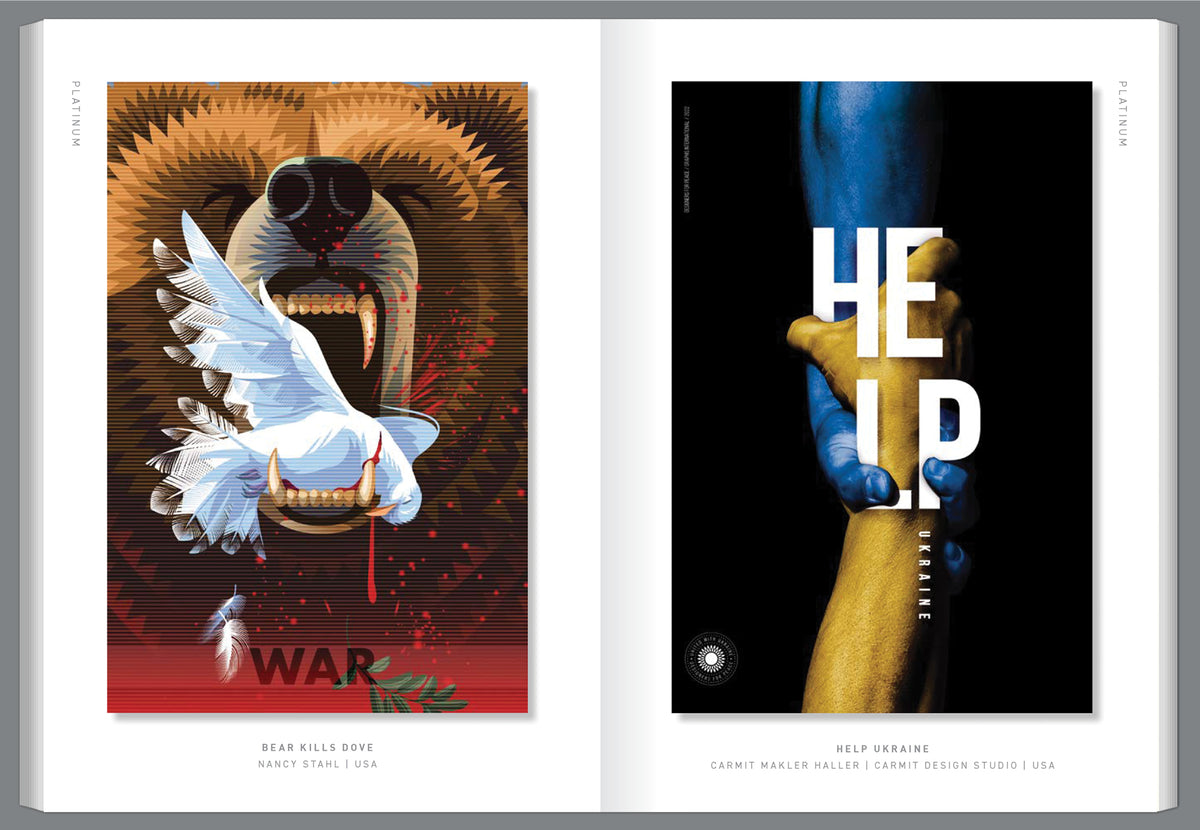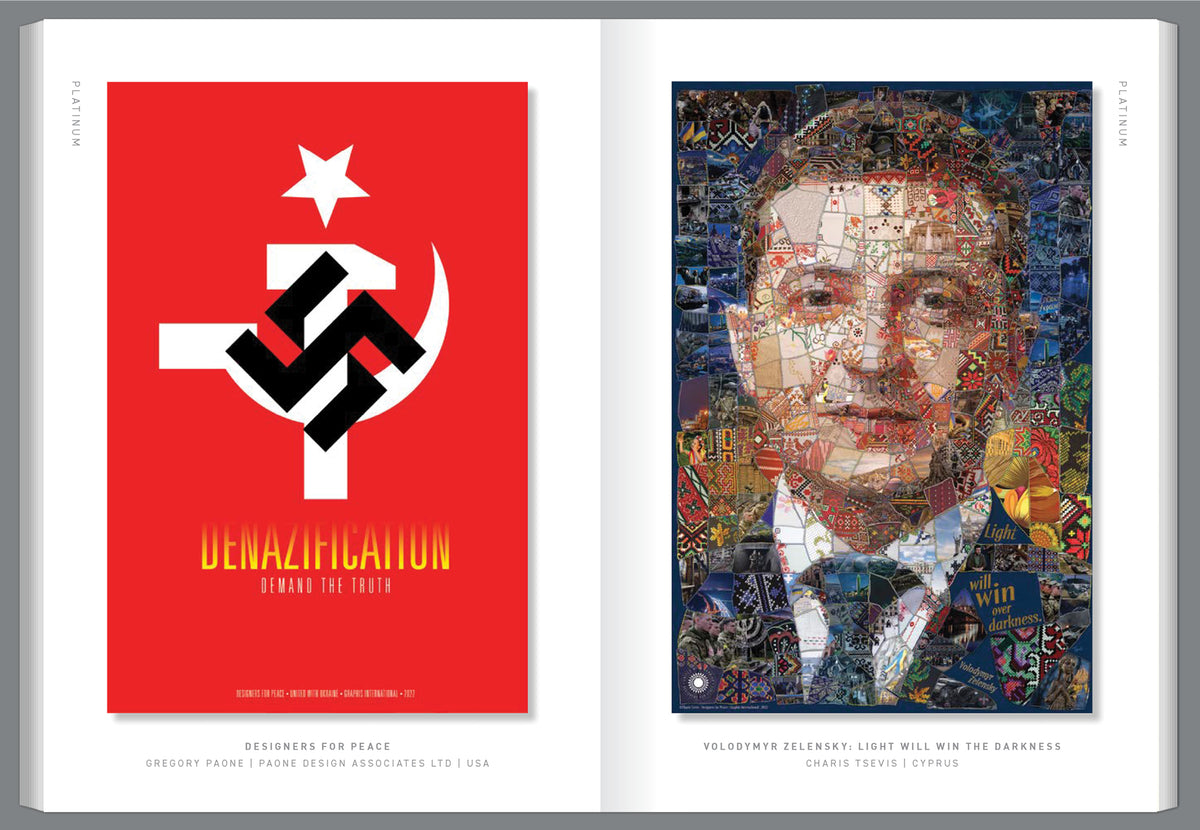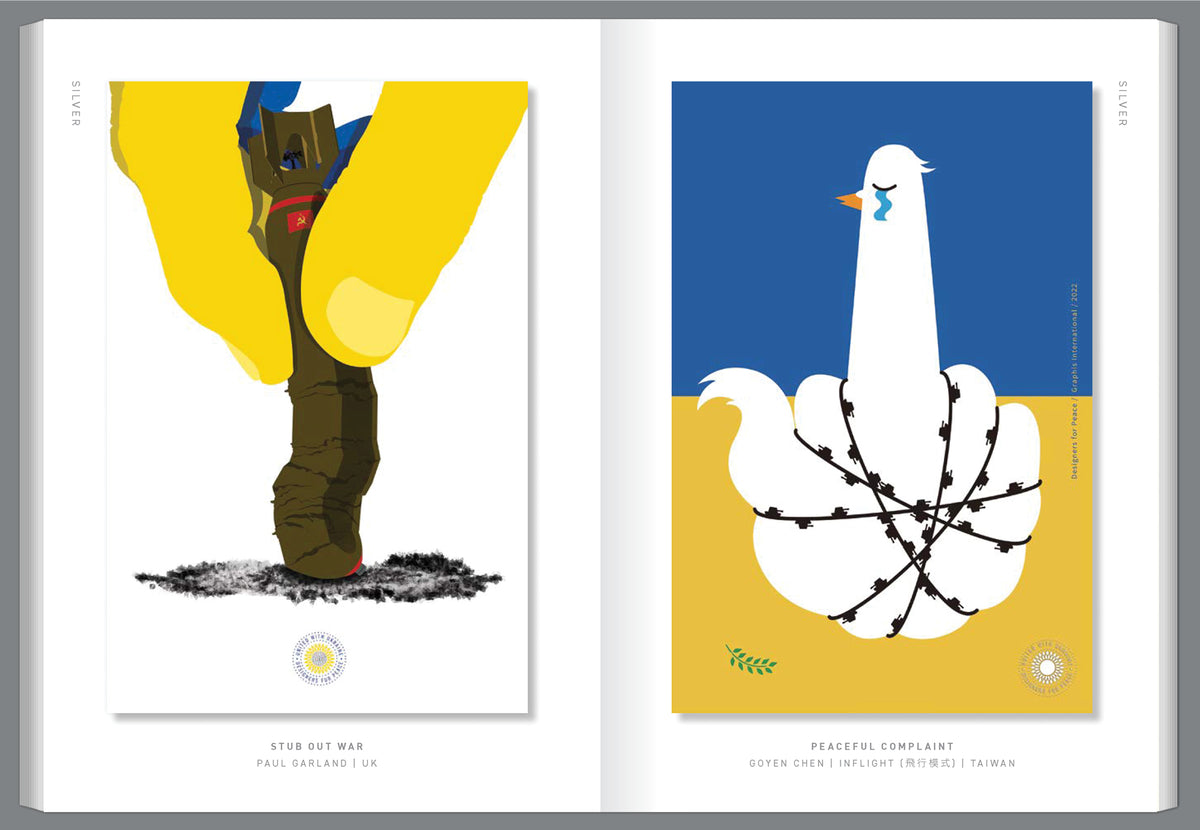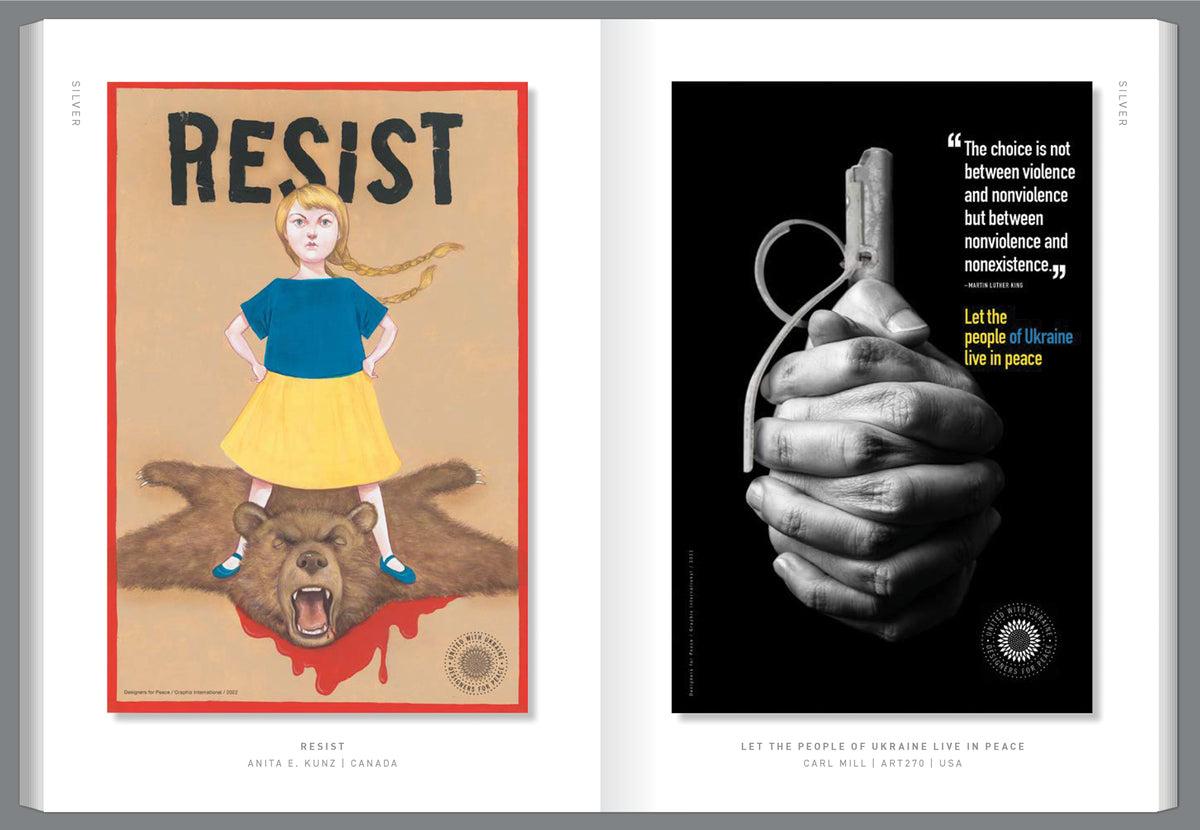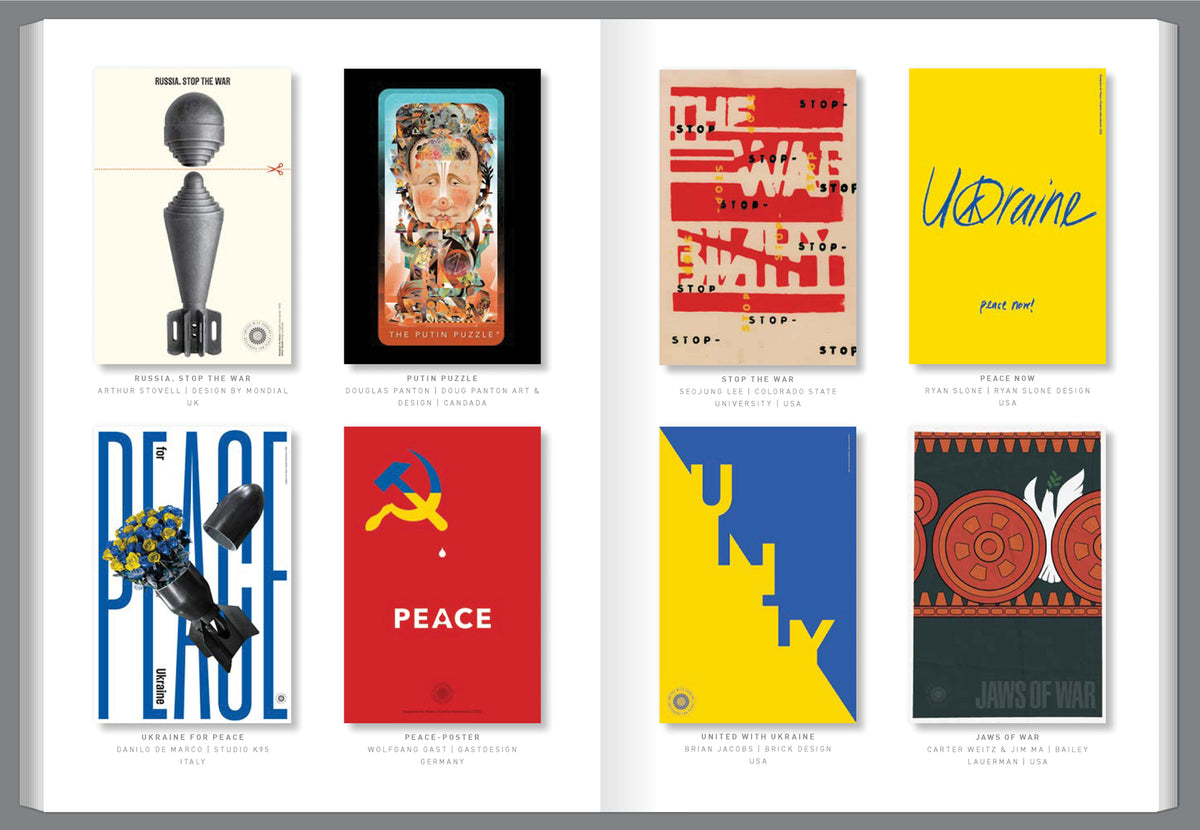 Designers for Peace Catalog
---
Catalog, 7" x 10", 0.56lb, 77 pages
---
This digital exhibition catalog was designed and produced by Kit Hinrichs, Studio Hinrichs. All poster contributions to the DESIGNERS FOR PEACE call for entries are presented in this historic compilation of over 350 posters from over 30 countries.
Following the brutal invasion of Ukraine in February 2022, Graphis initiated an international poster competition to the creative community, titled "Designers for Peace: United with Ukraine," to give designers a graphic forum to share a united voice.
The response from the global design community to the Graphis poster campaign was spontaneous, vast and immediate. More than 350 designers submitted poster art from over 30 nations around the world. An international panel of distinguished judges, chaired by American designer Kit Hinrichs of Studio Hinrichs, selected 60 entries for inclusion in a traveling exhibition and show catalog.
Without exception judges found the work thought-provoking and beautiful in their emotional execution. Many heartfelt concepts were crafted around the brutality of the current crisis, with poignant elements that evoked Ukraine's rich culture and traditions.Graphis is currently hosting exhibitions of the "Designers for Peace: United with Ukraine" poster art in multiple venues around the world.
Graphis CEO B. Martin Pedersen states, "We are honored to bring the voice of our global design community together. Through the messages conveyed in these posters, we hope to make even a small difference in presenting a united front against war and a deep commitment to shared human values and support of the victims, the people of Ukraine. We would like to invite audiences around the world to view this exhibition to connect with the deeply compelling poster art at this fragile moment in time."
JURY:
Kit Hinrichs, Chair, Studio Hinrichs (USA)
Charles S. Anderson, CSA Design (USA)
Peter Bankov, Bankov Posters (Czech Republic)
David Carson, David Carson Design (USA)
Luke Hayman, Pentagram (USA)
Eve Steben, THERE IS STUDIO (UK)
João Machado, João Machado Design (Portugal)
Andrew Hoyne, Hoyne (Australia)
Armando Milani, Milani Design (Italy)
Harry Pearce, Pentagram (UK)
Toshiaki & Hisa Ide, IF Studio (USA)
Boris Ljubicic, STUDIO INTERNATIONAL (Croatia)
DJ Stout, Pentagram (USA)
PLATINUM WINNERS:
Nancy Stahl (USA)
Carmit Haller, Carmit Design Studio (USA)
Gregory Paone, Paone Design Associates LTD (USA)
Charis Tsevis (Cyprus)
Peter Kraemer, Peter Kraemer Illustration (Germany)
Craig Frazier, Frazier Studio (USA)
Michael Pantuso, Michael Pantuso Design (USA)
Derwyn Goodall, Goodall Integrated Design (Canada)
Jacek Tofil, Jacek Tofil Design (Poland)
John Gravdahl, Gravdahl Design (USA)
Proceeds from the "Designers for Peace: United with Ukraine" catalog directly benefits Ukraine humanitarian aid through Jose Andres' World Central Kitchen and International Relief Teams.